The patriots are helping the people, those within gov positions are trying to stop this, they are diverting funds away from where they are suppose to flow to. The D's/MSM did not expect the Trump administration to prepare for the economy for something like this, they push to destroy the economy has failed. The [DS]/MSM are now doing everything and anything but at each turn the people are finding out that they have been lying. Treason runs deep with the [DS]. Ratcliffe was just confirmed as the next DNI, the [DS] are now blocked, they are exposed, there is no place to hide, the patriots are coming for them.
Check Out The X22 Report Spotlight YouTube Channel X22Report Spotlight
Please check Newzsentinel.com for the latest news on the economic collapse. The Sentinel Alerts are updated throughout the day.
---
Current News – 05.21.2020
Watch The X22 Report On Video
---
Economy
Thirty-seven Planned Parenthood locations applied and received a total of $80 million in funding from the Small Business Association's (SBA) Paycheck Protection Program (PPP) despite being a multi-billion-dollar company. Sen. Josh Hawley penned a letter to SBA Administrator Jovita Carranza requesting an explanation and outline of steps the association is taking to correct the error.
"Planned Parenthood is not a small business. It is a multi-billion-dollar company. In the fiscal year ending last June, Planned Parenthood had $2.3 billion in assets and nearly $2 billion in revenue. The year before, Planned Parenthood paid its CEO more than $1 million. And now, Planned Parenthood has diverted $80 million from actual small businesses during a global pandemic even though Planned Parenthood knew it was ineligible for this program," Hawley said. "The ease with which Planned Parenthood was able to unlawfully divert $80 million should concern everyone."
Source: thefederalist.com
---
Political/Rights
The survey, taken May 18-19, shows that there is still significant public support for the former president over the current White House resident by a margin of 54 per cent to 43 per cent.
Source: stationgossip.com
Trump tried to coerce Ukraine into smearing Joe Biden to help his reelection. His scheme failed and he was impeached.

Now Russian-linked figures in Ukraine are leaking edited recordings which show nothing new, but have the same purpose:

Advancing Trump's corrupt scheme. https://t.co/9fOHs7queN

— Adam Schiff (@RepAdamSchiff) May 20, 2020
Three Democratic members of the Staunton, Virginia, city council were ousted by Republicans on Tuesday despite receiving more votes than they did four years ago.
Republican candidates Mark Robertson, Amy Darby, and Steve Claffey all joined incumbent Andrea Oakes in a four-seat GOP sweep, WHSV reported. The three incoming council members replaced Democratic incumbents Erik Curren, Ophie Kier, and James Harrington all almost doubled their vote totals from 2016, yet still lost.
Source: dailycaller.com
Andrew Weissmann, former lead prosecutor on Mueller's special counsel team, is headlining a June 2nd virtual fundraiser for Biden. pic.twitter.com/3lq7ld5m0u

— Ken Thomas (@KThomasDC) May 21, 2020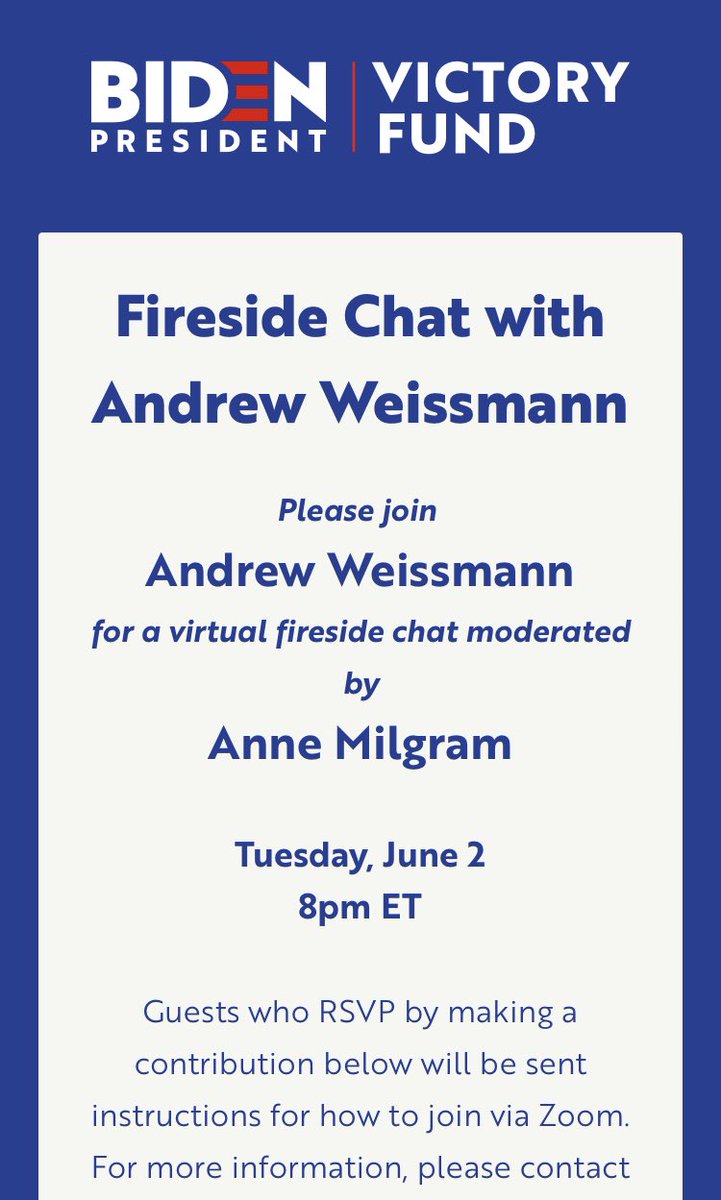 Appeals court orders judge in Flynn case to explain actions in dismissal
in federal appeals court accepted Michael Flynn's request to have the district judge overseeing his case removed and has ordered that judge to explain why he has gone to such great lengths to avoid the Justice Department's request to dismiss the case.
A special three-judge panel has been appointed to review the matter. A June 1 deadline has been set to respond to the request.
The request, filed on Tuesday by Flynn's legal team, asked the appeals court to remove Judge Emmett Sullivan from the case, claiming the judge was biased against the defendant.
Source: justthenews.com
On Monday morning the Atilis Gym in Bellmawr, New Jersey reopened in defiance of Governor Phil Murphy's Coronavirus lockdown order.
Supporters gathered in the parking lot in front of the gym to cheer the gym owner.
Later in the day an attorney for Atilis Gym said that the gym received a summons for 'disorderly conduct' from Camden County police.
But the gym remained open — until Thursday morning.
The New Jersey Department of Health shut down Atilis Gym on Thursday. This came after they gym's sewer backed with paper towels.
The gym's owner told reporters the gym has no paper towels.
This was a sabotage by nefarious actors!
The state wanted to keep the business locked down.
So someone clogged up its sewer!
Source: thegatewaypundit.com
CDC now says coronavirus 'does not spread easily' via contaminated surfaces
For those of you still wiping down groceries and other packages amid the ongoing coronavirus pandemic, breathe a sigh of relief: The Centers for Disease Control and Prevention (CDC) now says the novel virus "does not spread easily" from "touching surfaces or objects" —
Though it's not exactly clear when, the federal health agency appears to have recently changed its guidelines from early March that simply said it "may be possible" to spread the virus from contaminated surfaces. The CDC now includes "surfaces or objects" under a section that details ways in which the coronavirus does not readily transmit.
Source: foxnews.com
'No Evidence' That Coronavirus Spreads In Swimming Pools, According To CDC
---
Q
EYe7HvkXsAYfBsI.jpg
Chuck Grassley and Ron Johnson requested Rick Grenell declassify more documents,
BREAKING: Senate investigators seeking all docs generated by unmaskings of any and all Trump campaign members requested by Obama officials — including NSA justification reviews and staffers names who submitted requests for Obama officials –from January 2016 through January 2017

— Paul Sperry (@paulsperry_) May 20, 2020
So why were they going after Flynn, we all heard he knows where the bodies are buried, so what did he know, he knew about the iran deal
How Russiagate Began With Obama's Iran Deal Domestic Spying Campaign
"Federal surveillance laws put in place after Nixon were supposed to protect U.S. citizens. The Obama administration used them to spy on political opponents." We've long known this via Q drops. DECLAS docs confirm.
So if the Obama administration wasn't alarmed by Flynn's nonexistent ties to Russia, why was he Obama's No. 1 target? Why were officials from the previous administration intercepting his phone calls with the Russian ambassador?
The answer is that Obama saw Flynn as a signal threat to his legacy, which was rooted in his July 2015 nuclear agreement with Iran—the Joint Comprehensive Plan of Action (JCPOA). Flynn had said long before he signed on with the Trump campaign that it was a catastrophe to realign American interests with those of a terror state. And now that the candidate he'd advised was the new president-elect, Flynn was in a position to help undo the deal. To stop Flynn, the outgoing White House ran the same offense it used to sell the Iran deal—they smeared Flynn through the press as an agent of a foreign power, spied on him, and leaked classified intercepts of his conversations to reliable echo chamber allies.
Source: tabletmag.com
DhOEL47VAAA2WyL.jpg
Important to note
[future events]
.
Masking v unmasking
incidentally intercepted v direct
[target]
702 collection
[minimization procedures]
v CIA v FVEY
How does the CIA collect intelligence?
https://www.archives.gov/federal-register/codification/executive-order/12333.html
📁
CIA not governed by FISA
[intelligence operations conducted outside US]
FBI is under FISA
[foreign counterintelligence mission is principally domestic]
Target location: US or abroad
[traveling][rules]
Foreign intelligence collection of US person(s).
Official v unofficial.
What
[central]
AB
[C]
agency played quarterback?
QQ
How The Obama Administration Weaponized Surveillance Laws To Target Trump
Federal surveillance laws put in place after Nixon were supposed to protect U.S. citizens. The Obama administration used them to spy on political opponents.
The drip-drip-drip of newly declassified documents related to the Trump-Russia investigation, together with recent reports that a classified leak against former National Security Advisor Michael Flynn might not have come from an unmasking request, leaves little doubt that the Obama administration weaponized federal surveillance laws to target Trump associates and undermine the incoming administration.
Q
Inquiry by C.I.A. Affirms It Spied on Senate Panel, article is from 2014
An internal investigation by the C.I.A. has found that its officers penetrated a computer network used by the Senate Intelligence Committee in preparing its damning report on the C.I.A.'s detention and interrogation program.
The report by the agency's inspector general also found that C.I.A. officers read the emails of the Senate investigators and sent a criminal referral to the Justice Department based on false information, according to a summary of findings made public on Thursday. One official with knowledge of the report's conclusions said the investigation also discovered that the officers created a false online identity to gain access on more than one occasion to computers used by the committee staff.
The inspector general's account of how the C.I.A. secretly monitored a congressional committee charged with supervising its activities touched off angry criticism from members of the Senate and amounted to vindication for Senator Dianne Feinstein of California, the committee's Democratic chairwoman, who excoriated the C.I.A. in March when the agency's monitoring of committee investigators became public.
Worth remembering.
Who was the quarterback? CIA
Q
Q

!!Hs1Jq13jV6

ID: 0fdf28

No.9263675

NEW